Sanibel Island has a history that dates back as far as six thousand years ago. The island first inhabited by the Calusa Indians was shaped and molded into vast waterways upon shell mounds. The Calusa were builders and craftsmen whose structures are still intact today.
Decades after the disappearance of the Calusa Indians, a permanent settlement on Sanibel Island was scarce due to illness and war. It was not until the late 1800s when early settlers arrived on the island when the first infrastructures were developed. In the late 1800s, Sanibel Village was created with its primary school and town square and was occupied by only 40 plus families. In 1845, Florida had become a state and was soon occupied by military forces during the Civil War; bringing in more and more settlers into the Sanibel Island area. In 1870, the government deemed Sanibel Island as a lighthouse reservation and constructed the Sanibel Lighthouse.
For many years, the residents of Sanibel Island opposed the island becoming overdeveloped as its surrounding counterparts. They wanted the island to keep its heritage of peace and seclusion. Today, Sanibel Island is a beautiful community full of beaches, historical sites, and homes still beaming with nostalgia.
Sanibel Lighthouse
First petitioned by settlers in 1833, for a lighthouse to be built on the island to help steer ships crossing the Gulf. However, construction on the lighthouse did not begin until 1884, as the town had not received financial compensation until 1884. During construction of the lighthouse, the boat that had been carrying the framing for the tower had sunk two miles from Sanibel Island. Putting a pause on the project until divers could recover the missing parts. Before 1949, the lighthouse ran on kerosene until it changed to automated.
Today, the Sanibel lighthouse stands as a historical landmark. The lighthouse, now owned by the city and is maintained by city officials who take part in its preservation.

Walker Guest House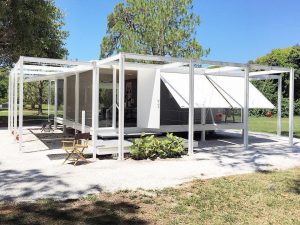 Built-in 1952 by architect Paul Randolph, the Walker Guest House sits on Sanibel Island looking towards the Gulf of Mexico. The body of this coastal wonder constructed of steel framing is surrounded by full glass windows that touch from floor to ceiling. Randolph knew that anyone living in the guest house would want privacy, so he added adjustable wooden panels to surround the window spaces. There are weighted cannon balls to the wooden shutters that help enclose the structure when raised. Rewarding the house with the nickname "the cannonball house."

For more articles and features, visit: http://bowechoconstruction.com/news/

Sources:
https://sanibelrealestateguide.com/sanibel-lighthouse-history/
http://sanibellighthouse.com/history/
https://sanibel-captiva.org/sanibel-island-history-captiva-island-history/
https://archpaper.com/2019/01/paul-rudolph-walker-guest-house/
https://www.prnewswire.com/news-releases/replica-of-paul-rudolphs-iconic-1952-beach-cottage-ready-for-visitors-300164297.html