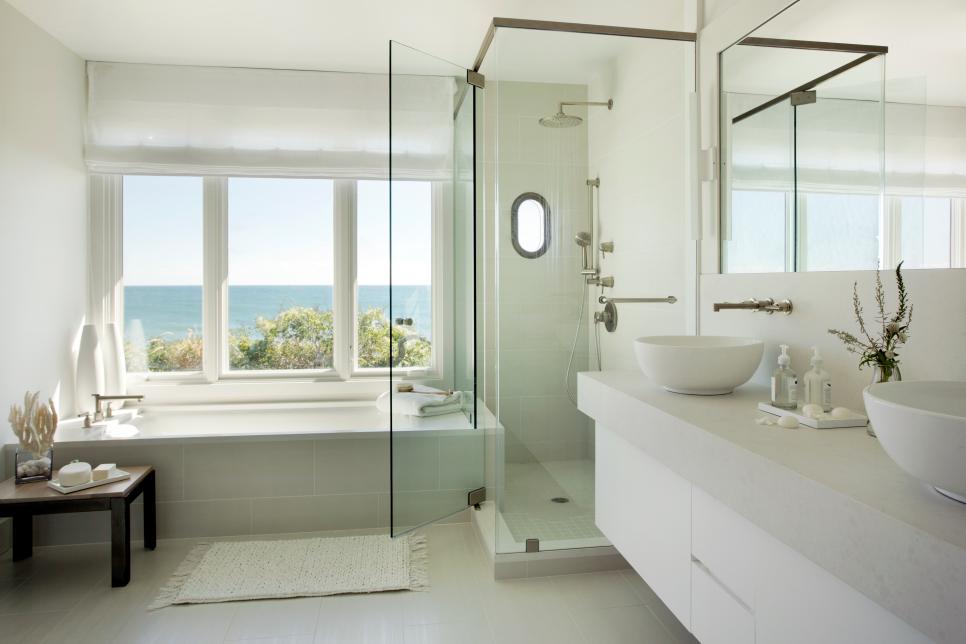 Past trends come back in style over time, and modern style is no exception. Interior design enthusiasts are captivated by the look of a modern style bathroom. A bathroom may become an afterthought while designing your home, but a modern style design can turn any bathroom into an oasis that you will want to show off to all your guests.
Modern and contemporary are not interchangeable when referring to interior design. Modern design refers to a distinct time period called "Mid Century Modern," which lasted from the 1920s to the 1950s. The modern era and the time period it refers to does not change, even if the modern style is trending right now. A style that is trending now would be considered a contemporary style. Contemporary style refers to the current time period, and it is constantly evolving based on what is currently popular.
Modern bathrooms are popular in the United States and Europe. They are recognized by their simple designs that feature mostly white decor paired with pops of color and texture. White is always in style. The use of mostly white décor makes the space look simple and clean. Neutral tones, like brown and grey, are just as timeless as white. While neutral colors are popular in modern bathrooms, most designs include an accent color as well. Some of the most popular colors in a modern bathroom are teal, red, yellow and green. An accent color can be incorporated into a bathroom through tile flooring, the trim on fixtures, a rug or wallpaper. If colorful décor is not your style, black can even be an accent color. Black and white tile flooring, black trim on the mirror and black fixtures are just a few examples of ways black can be incorporated into a modern bathroom as an accent color.
Modern bathrooms are also characterized by their use of natural materials and interesting textures. Wood is a standard option for cabinets, vanities and fixtures. Lightly-colored wood is very popular in modern bathrooms, especially bathrooms with a coastal theme, but dark wood is also popular, since it is classic and goes with almost any design. Marble countertops and tiles in the shower are also popular in modern bathrooms. Marble is commonly paired with brass fixtures to warm up the cool tones of the tile. For a bold look, consider concrete walls. An unfinished concrete wall actually can finish a modern bathroom design, since concrete walls easily add pattern and texture to the design.
There are a few design staples that can complete any modern bathroom design. For instance, freestanding bathtubs and vessel sinks, especially ones made of glass, are popular in modern bathroom designs. These bathtubs and sinks not only save space, but they also add visual interest to the bathroom. Spa-style bathtubs are also popular in a modern style bathroom. Additionally, a private space with a door can help separate the toilet from the rest of the bathroom. This makes the bathroom not only appear cleaner, but it is also functional and perfect for people who share a bathroom. Modern bathrooms also include plenty of mirrors. Mirrors add visual depth, which can help make even a powder room look spacious. Large windows with plenty of natural light add to the illusion of a larger bathroom when the light bounces off the mirrors. Artificial lighting is almost important for setting the mood of a bathroom. Warm-toned lights on a dimmer may be perfect if you enjoy taking relaxing baths, whereas bright vanity lights would be ideal for doing makeup or shaving.
Bold patterns and shapes are usually found in a modern bathroom as well. Tile flooring comes in many different colors and shapes. Neutral colored square tiles are timeless, but teal hexagon-shaped tile could be the way you choose to add color and pattern to your bathroom. Fun wallpaper is sometimes used in a modern bathroom to eliminate the need for tons of decorations. If wallpaper is not your style, plants would be a perfect decoration for a modern bathroom, since they are natural and add color. Coastal bathroom decorations are great for homes in Florida, especially those close to the water. Most importantly, don't forget about storage space. A bathroom may look nice, but it must be functional as well. Incorporate wooden cabinets next to the bathtub or decorative drawers under the vanity for easy access to your toiletries.
Modern bathrooms are popular among designers, because they are simple and classic, yet interesting and appealing. Whether you are looking for a simple bathroom design with neutral colors or a coastal bathroom design with bright colors and plenty of décor, you should consider a modern style bathroom for your next remodeling project.
Sources: