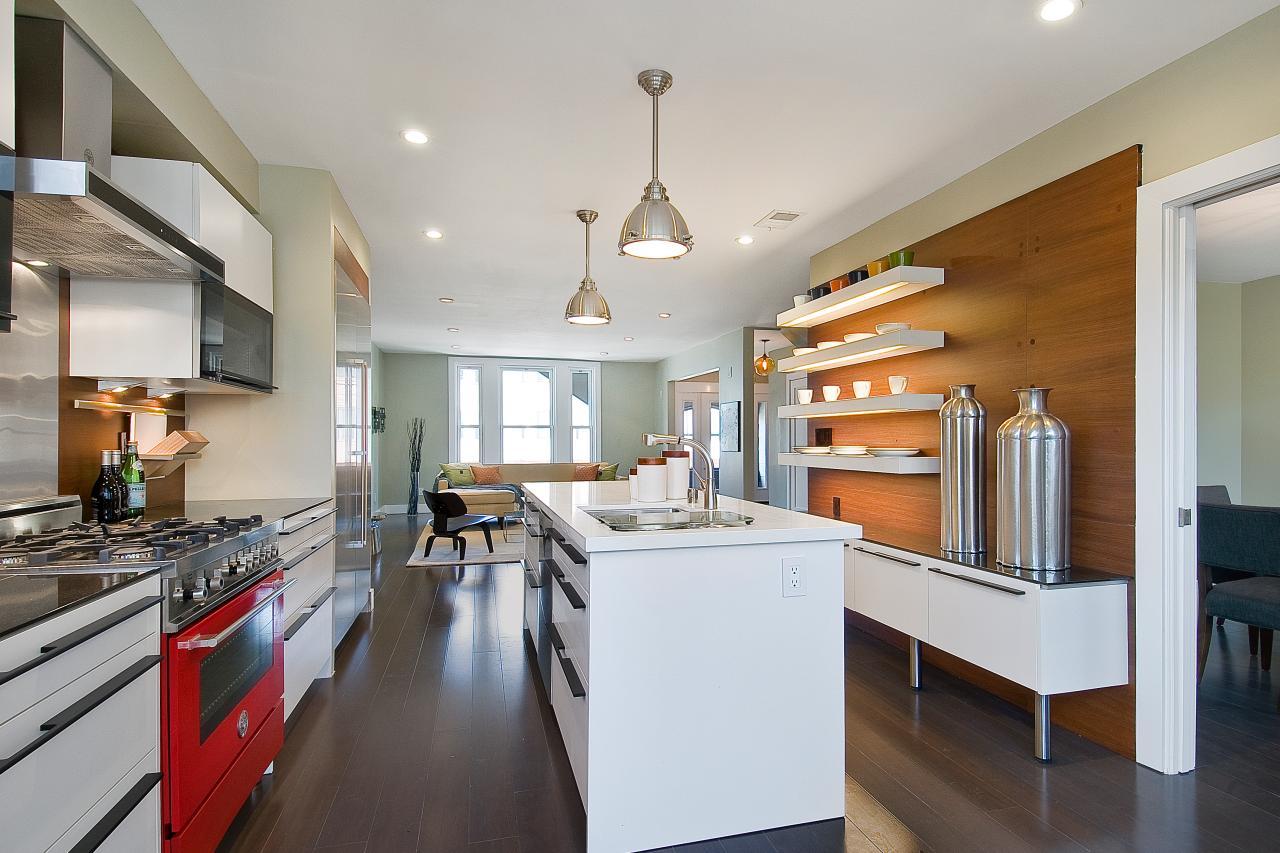 Many designers upgrade their clients' kitchens to a sleek, modern design. From clean lines to simple interiors, modern kitchens can make any home look expensive and luxurious.
Many people confuse modern with contemporary, since these terms are somewhat interchangeable in colloquial conversation. However, when referencing a design style, the terms modern and contemporary are completely different. Modern design refers to a distinct period of time, namely "Mid Century Modern." Modern is the design style that was created in the 1920s to 1950s. Although the popularity of the modern style may come and go, the modern era and the time period it refers to does not change. The modern style is recognizable by its clean, simple interior, its use of natural materials, such as wood, and bare floors. Some modern interiors can even be referred to as retro by today's standards. A contemporary style, on the other hand, refers to the current time period. A contemporary style is constantly evolving based on what is popular right now.
A modern style kitchen is trending right now in the United States and in Europe. One of the most distinguishable features of a modern kitchen is the use of neutral tones, especially white. Many modern kitchens are all white kitchens, from the cabinets to the paint on the wall. Grey is another popular color choice for modern kitchens. Any monochromatic color palette is a popular choice for modern kitchens. In addition to neutral tones, natural finishes like wood cabinets and quartz countertops are also popular in a modern style kitchen.
Lighting is another important aspect when creating a modern style kitchen. Modern kitchens usually include a good amount of natural light, along with plenty of artificial light. Large windows in the kitchen allow plenty of sunlight, while giving the illusion of a larger space. Modern kitchens also include artificial light fixtures, like ceiling lights as well under the cabinet lighting. Light fixtures can be unusual accent pieces that draw attention in modern kitchen.
High-tech appliances and intricate storage spaces are popular features of a modern kitchen. Some popular appliances include a double oven or a steam oven, an island cooktop, and a dishwasher in a drawer, which is a small dishwasher that looks like a regular cabinet drawer. Modern kitchens usually have a very sleek design, which is why built-in refrigerators are gaining in popularity. It makes the kitchen appear much cleaner. Some modern kitchens will even include a television or a place for a laptop, so cooks can easily look up recipes or watch cooking tutorials and television programs.
Storage is quickly becoming one of the most important features in a kitchen. In a fast-paced world, people want to be able to find items quickly and cook dinner fast. Many new storage features help speed up this process by making items easier to access. One trendy storage item is an on-counter garage, which stores smaller appliances. These garages stay on the counter for easy access. This keeps cooks from having to pull out heavy items, like mixers, from the cabinet every time they need it, while keeping the countertop looking clean. Other popular storage features include deep drawers for pots, full extension drawers for easy access to all items in the drawer, divided storage for utensils, tray storage cabinets for organizing cookie sheets and cutting boards, and trash and recycling pull-out cabinets.
A modern style kitchen is recognized mostly by the modern style materials inside of the kitchen. Quartz is still the most popular choice for countertops, but granite and marble countertops are also quite popular for a modern style kitchen. Granite requires slightly more maintenance, which is why many consumers choose quartz. Regardless of the type of countertop, most modern kitchens have countertops in neutral colors.
Hardwood flooring is a popular choice for flooring, but ceramic tile is almost just as popular. Although, a polished concrete floor has increased in popularity recently. It looks natural and effortless, while allowing high-tech appliances and gorgeous cabinetry to demand the attention. Wood is also a popular choice for cabinetry. A natural wood brings elegance to a modern home, while a dark brown wood is classy and sleek. White cabinets are equally as popular, since they look clean and timeless. Many modern kitchens do not have cabinets that reach the ceiling. Instead, there is a gap between the cabinets and the ceiling, which make the kitchen appear larger. Most people enjoy this feature, since many people are unable to reach things on the top shelf of the cabinet anyway.
Grey-toned appliances are common choices for modern kitchens, along with appliances with dark brushed metal finishes. Stainless steel is still popular as well, but the vintage style of a red or blue appliance deserves recognition. This retro design is popular in a modern kitchen. Some people prefer to add a pop of color using an accent wall or accent ceiling tile. These accents can be wood, a color or a texture. Some people even add a pop of color through an accessory like a bar stool or countertop appliances, like a mixer or coffee machine.
There are many options when designing a modern style kitchen. If you enjoy the look of a clean, sleek style kitchen with neutral colors and natural materials, you should consider a modern style kitchen for your next remodeling project.
Sources:
https://www.bhg.com/kitchen/remodeling/planning/must-have-kitchen-features/
Photo 1: https://www.hgtv.com/design/rooms/kitchens/modern-kitchen-cabinet-doors
Photo 2: http://www.onaponaskitchen.com/modern-kitchen-white/
Photo 3: https://www.hgtv.com/design/rooms/kitchens/modern-kitchen-cabinet-doors