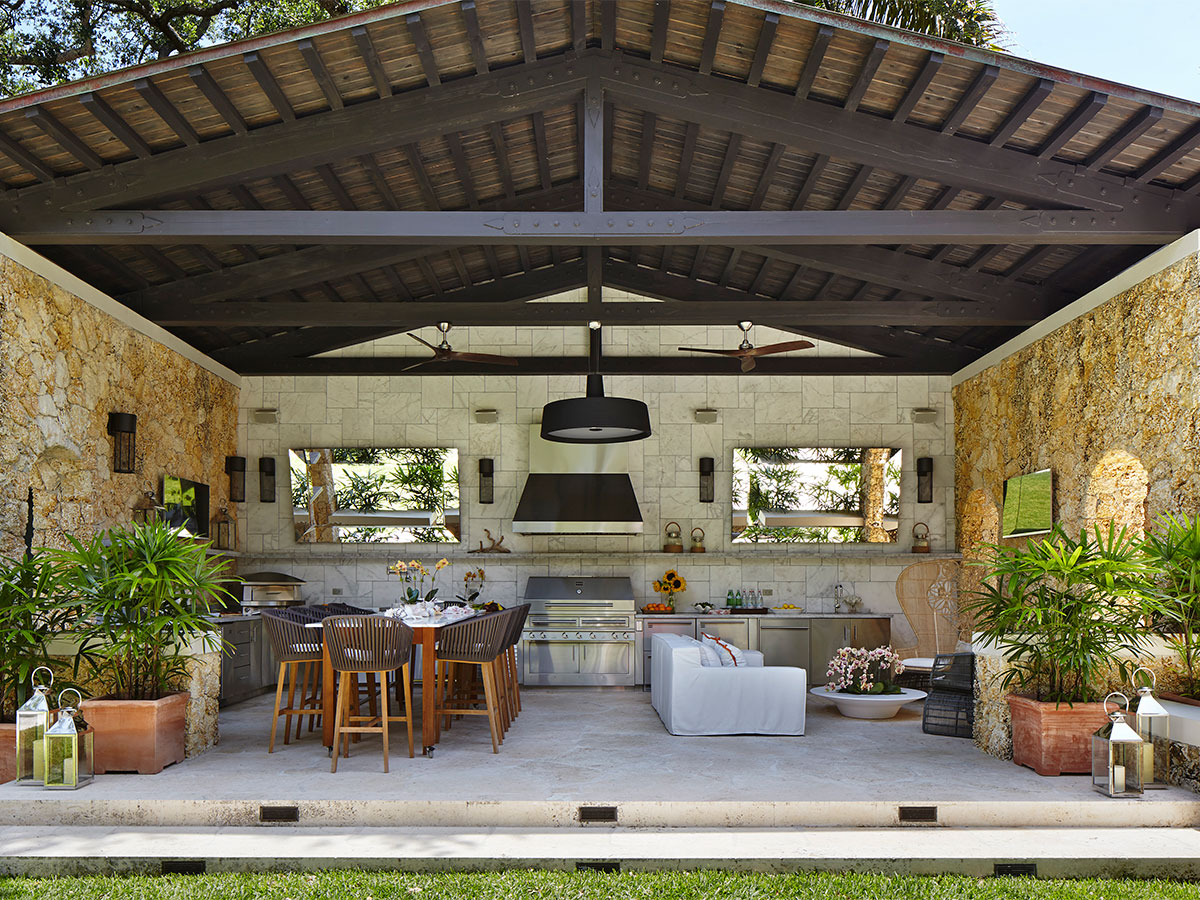 Outdoor kitchens are a summer staple in sunny Florida. Throughout the recent years, outdoor kitchens and luxurious lanais have increased in popularity. What better way to entertain this summer season than to grill out and chill in a superb outdoor living space? Here are five must-have outdoor kitchen features.
Location
As the saying goes, "location is key". It's important to consider the placement for where your outdoor appliances will stand. Things like refrigeration outlets, grill smoke, and walking distance from the indoor kitchen are factors that can often be forgotten. For example, when choosing the placement your grilling appliances keep in mind the regular / average wind patterns and how they affect your home.
Work Space
Your outdoor kitchen should have four different "zones": hot, dry, wet and cold. The hot zone is for the grill, oven, and cooktops. The dry zone should be the main space used for food preparation, cabinetry, and other space for storage. A wet zone will house the sink and the cold zone is for the refrigerators, freezers, and alcoholic beverage coolers.
Decoration
An outdoor kitchen isn't just a place for you to cook outside of your home, but also serves as a great place to gather and entertain guests. Complete the space with furniture like chairs, tables, and outdoor sofas, lights and various decorative accessories like plants and pillows. Be mindful to choose weatherproof fabrics and metals, as one can never account for unpredictable weather.
Bar
Take your outdoor kitchen to a new level with a state-of-the-art bar. For spaces used for gathering and parties, having a bar installed can bring perks like efficiency and convenience. A bar can dual as a cold zone, as mentioned before, where you can store items in a refrigerator or cabinet space. The bar will also serve as a gathering area for family and guests to be in and exchange fun conversations.
Heaters, Shade and Rain Shelter
When considering having your outdoor kitchen built, always be mindful of the weather in the area you reside. Things like fireplaces, heaters, shade trees, vent hoods, and pavilions are great ways to prepare for all seasons and weather conditions that may affect your home.
Interested in creating your own outdoor kitchen? Contact Bow Echo Construction today for a consultation. You dream it, we build it!
Sources
https://gbenergy.com/2015/03/20/3-must-have-features-every-outdoor-kitchen-needs/
http://porch.com/advice/7-tips-best-outdoor-kitchen/
https://www.installitdirect.com/learn/outdoor-kitchen-designs/
https://www.hgtv.com/remodel/kitchen-remodel/outdoor-kitchens-10-tips-for-better-design